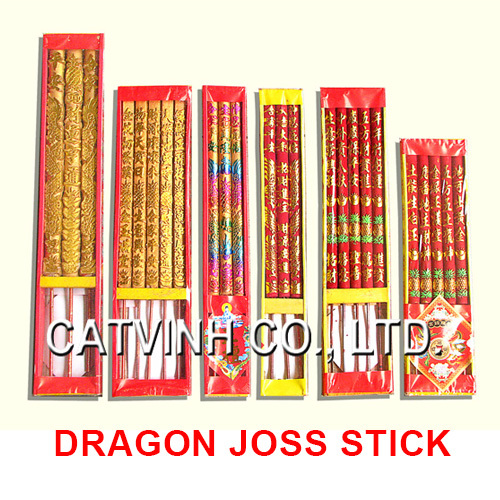 Product Description
Dragon Joss Stick (Fancy Incense Stick)
Features

- Beautiful and opulent designs
- No offensive odor, absolute burning
- Unscented
- Competitive price
- On time delivery
Details

Material: Josspowder, wood powder, metal stick
Use: Religious/ Festival
Place ofOrigin: Viet Nam
Color: Variouscolour, such as golden color, red, 7 colors, green, dark blue etc.
Pattern: Dragonpatterns and various patterns (color, pattern and length can be customized)
Length: Variouslength, from 24cm to 126cm
Handle: Metalstick
Packing: 3sticks/box or 5 sticks/box. Boxes stowedin export worthy cartons
Minimumorder quantity: 1 Twenty-foot container (1 FCL of 20 feet), can be combinedwith other types of incense to stow a full container.
Supplyability: 50 Metric Tons per Month and expandable
Payment: L/C,D/P, TTR
Contact Us
178/11/27 Phan Dang Luu St., Phu Nhuan Dist, Ho Chi Minh City, Thanh Pho Ho Chi Minh, Vietnam
Phone :84-28-39955043